Cucumber
Jaguar F1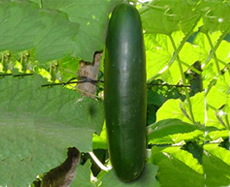 Cucumber – Pepino
•JAGUAR is a very high yield hybrid slicer gynoecious cucumber with a strong vigorous plant . -Fruits are high quality cylindrical and uniformed with dark green skin.- Early maturity. Jaguar counts with an expansive disease resistance package that makes it very attractive for planting and a desirable product in the market. Abundant yields.
•JAGUAR es pepino híbrido de tipo ginoico con planta vigorosa que se distingue por su excelente calidad y habilidad en producir frutos cilíndricos y uniformes. -Atractivo color verde oscuro. -Maduración temprana y excelente productividad.
-Cuenta con un amplio paquete de resistencia /tolerancia ofreciendo uno de los mejores paquetes de virus y resistencias en el mercado.
-Producción prolongada.