Eureka F-1 Roja Hibrida
Eureka F-1
Roja Hibrida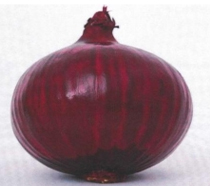 Eureka F-1 Roja Hibrida
•EUREKA is an extra early short day onion. -Beautiful Intense
red color skin.-Jumbo bulb size and globe shape.
-Tolerant resistance to Pink root.
-Excellent product for salad bar. -Good yield for early season.
•EUREKA es una cebolla híbrida de dia corto. -Produce bulbos
de forma Globo y su tamaño es Jumbo .-Posee una admirable
coloración rojiza en su interior y exterior
-Tolerancia a Raiz rosada.-Cebolla precoz.
See the technical data in PDF Format
Ver datos en PDF Formato