Melon Maximo
Maximo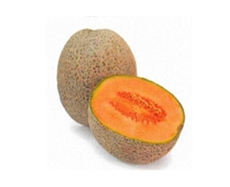 Melon Maximo
• MAXIMO is an early maturing melon and its name is derived for its superior characteristics: -Very firm salmon flesh, flavor aroma, shelf life after harvest and widely adapted variety. -Consistent uniform shape and dense fruit netting. -Small and close cavity.-Good shipping ability.
• MAXIMO es un melon cantaloupe y su nombre se deriva de sus propiedades superiores en sabor, forma y adaptación en zonas de difícil producción.
-Sabor dulce y jugoso en su interior. -Color salmon en su pulpa,
cavidad de semilla pequeña.- Su tamaño facilita su transporte.
-Excelente enmallado y forma ovalada. Planta vigorosa.

See the technical data in PDF Format
Ver datos en PDF Formato