Yellow Granex F-1 Amarilla Hibrida
Yellow Granex F-1
Amarilla Hibrida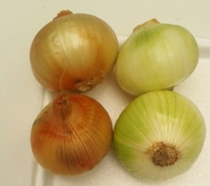 Yellow Granex F-1 Amarilla Híbrida
•-Yellow granex is an early short day yellow onion.-Sweet taste.
-Flat bulb shape and Jumbo bulb size.-Good resistance and tolerance to
pink root.-Resistance to high temperature changes.
-High yielding and wide adaptability.-High production.-For sweet markets.
•-Yellow granex es una cebolla dulce de dia corto.-Bulbo achatado tamaño jumbo. -Alta resistencia y tolerancia a raíz rosada.-Resistencia a cambios drásticos en temperatura.-Alta producción y amplia adaptabilidad.
See the technical data in PDF Format
Ver datos en PDF Formato